June 5, 2023
Kingston, Jamaica. The Commanding Officer for the St Ann Police Division of the Jamaica Constabulary Force (JCF) has commended the staff of the St Ann Justice Centre for their assistance in resolving conflicts in the parish that could become deadly.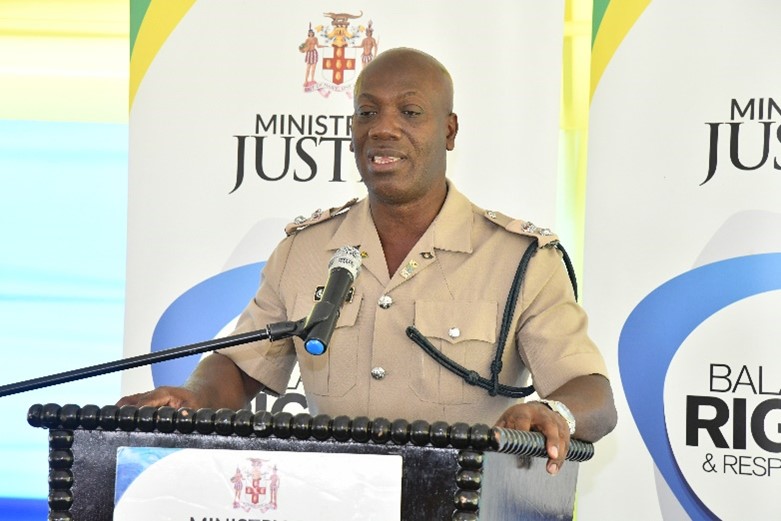 Senior Superintendent of Police and Commanding Officer for the St Ann Police Division addressing the opening ceremony of the St Ann leg of the LAC Justice Fair.
In his address at the opening ceremony at the Ministry of Justice (MOJ's) Legal Aid Council (LAC) Justice Fair held on May 26 at Lawrence Park in St Ann's Bay, Senior Superintendent Dwight Powell informed attendees that despite the 24% reduction in major crimes, robberies, break-ins and shootings within the parish, murders have increased by 55% with the parish experiencing 28 murders this year compared to the 18 recorded last year.
"I believe the [St Ann] Justice Centre is doing a tremendous job. Many of the conflicts in St Ann that would result in murders are related to land disputes, and when referred to the Justice Centre, the Centre finds ways to resolve these issues," said Superintendent Powell.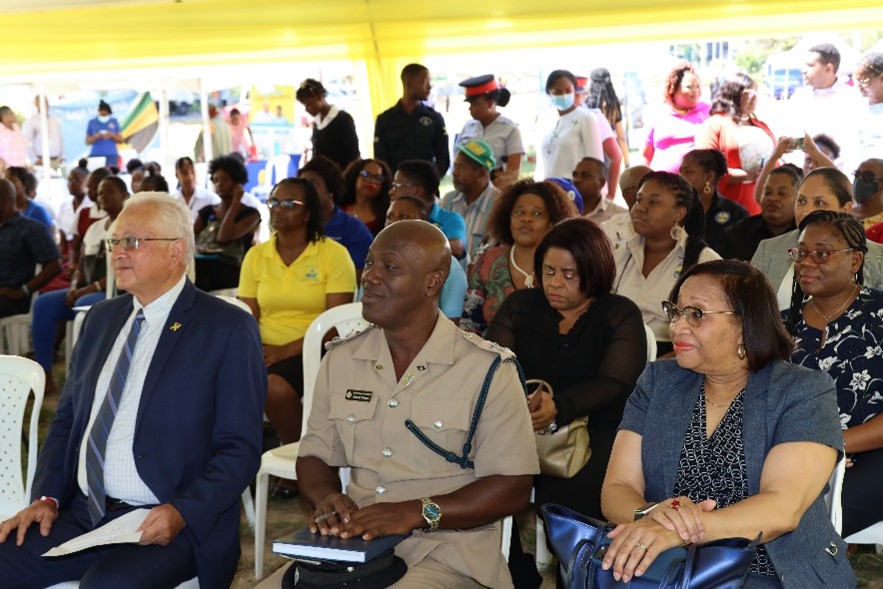 A section of the audience at the opening ceremony held at Lawrence Park for the St Ann leg of the LAC's Justice Fair. Seated in the front row are (From L-R), Minister of Justice, Hon. Delroy Chuck, Senior Superintendent and Commanding Officer for the St Ann Division, Dwight Powell and Permanent Secretary at the Ministry of Justice, Mrs Grace Ann Stewart McFarlane.
  
Minister of Justice, Hon. Delroy Chuck, speaking at the event, also added his commendations to the staff of the Justice Centre. "I know the Justice Centre here in St Ann's Bay is doing a fantastic job, and I commend them. During Restorative Justice Week [celebrated in February], several testimonials came from individuals encouraging persons to use the St Ann Restorative Justice Centre," said Minister Chuck.
Minister Chuck encouraged individuals to visit a Justice Centre before taking action and reminded the public that there are 20 Justice Centres across the island.
Senior Superintendent Powell informed attendees that in the upcoming quarter, residents of St Ann should see a reduction in major crimes within the parish through the partnerships with the Justice Centre, lawyers and other stakeholders of the justice sector. 
Restorative Justice and Child Diversion services can be accessed at the Justice Centres as well as referrals to Victim Services. Residents of St Ann may contact their Justice Centre located at 2 Tucker Ave, St Ann's Bay, by telephone at 876 972-3097 or 876 972- 8940.